MEET THE TEAM

With over 30 years of teaching experience, our creative director, 'Upbeat' David Powell has taught in a vast range of settings across all ages and abilities. His boundless energy and infectious enthusiasm have inspired thousands of learners over the years and motivated countless educators. 

David's career has spanned professional musician, instrumental teacher, qualified classroom teacher and former assistant head of a local authority music service. David is passionate about creativity and the positive influence it can have on nurturing the development of individuals and groups. Upbeat is a champion of all the arts and our driving aim is to be accessible to all.  In March 2017, David was honoured to be presented the award for Creativity and Innovation at the Gwent Schools Awards hosted by the South Wales Argus. The only award presented to a non LA organisation/individual. The talented and diverse Upbeat team has been hand picked to fulfil that ethos.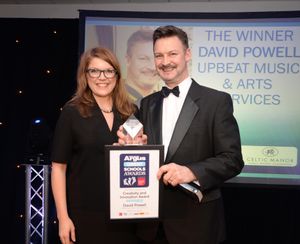 David Powell, Managing Director
TESTIMONIALS
"Pupils and staff get so much out of their sessions with Upbeat. They especially love the drumming sessions. Upbeat has helped our pupils to develop confidence, self-esteem and has taught them how valued they are individually or as part of a team." Lindsey Watkins, Head teacher, Millbrook Primary, Newport
"Upbeat are a pleasure to work with. The staff are friendly, approachable and always professional. The quality of their sessions are by far the best that the school has engaged with. The sessions are also great CPD for our staff as art and music training is so hard to come by." Milton Primary School
"Thanks for all the work you have done with our children. You really are a national treasure!" Ms Loraine Goss - retired Headteacher, Marshfield Primary School

"I can highly recommend Dave Powell as an enthusiastic, committed, inspiring and highly skilled musician and teacher. We have used his services to augment some of our training programmes and the sessions he delivers are well structured and ooze professionalism. He very quickly gets people working together and judges the balance between playfulness and focus superbly. He has the ability to quickly create a rapport with diverse groups of people."  Dean Ryan, Director If-Development
 
"As the teacher from the Unit for the children with Complex needs, I would like to show gratitude for how inclusive the activities you deliver are. My children achieved beyond my expectations. Thanks to Joel for the way he delivered the sessions with the children. He has a wonderful, positive and warm approach that the children really responded to". Phillipa King, Heol y Celyn Primary School
Ben and Charlotte have managed some challenging groups of children in an exemplary way.  The skills they bring and contributions they have made to children's learning here are invaluable.
Kate Guest, Headteacher - Malpas Park Primary
A massive thank you for all your wonderful work with my class! They thoroughly enjoyed themselves and I'm glad their parents got to see it too. I was very proud of the children today in assembly and thank you for giving 
it the 'wow' factor!! 
Stephanie Hall, year 2 teacher – Llantilio Pertholey Primary